TOPICS
We have applied site-wide SSL.
(h28.7.2)
Site-wide SSL is a security technlogy which all the site pages are authorizeed by public digital certificate, and communications are encrypted. The address of this site changes from "http://www.hara..." to "https://www.hara..." and a padlock icon appears on the head of the address.
We uploaded the information pdf file for print.
(May 19, 2015)
We made an information pdf file summarizing address, maps and timetables. We are very happy to have you utilize it.
The saturday afternoon consultation will be closed after June.
(May 19, 2015)
We are very sorry for the inconvenience, but I appreciate your kind cooperation.
We revised the maps.
(May 18, 2015)
We updated the access maps to more detailed and accurate version.
We added two cases of eyelid ptosis surgery.
(May 1, 2015)
Because we are often asked by patients about swelling after the eyelid surgery, we decided to upload the cases showing the course of swelling for a week after surgery.
We have changed the designs and contents at several portions.
(May 1, 2015)
We have changed the contents and the style of designs, mainly the pages of "Eyelid Surgery" and "Features", and we adopted the "colorbox" that enables to show enlarged images and slides and so on.
We have changed the schedule on Saturday.
(Mar 20, 2014)
We are going to open clinic only on the 2nd and the 4th Satureday from next April. Instead, we additionally open in the afternoon on these days.
We largely revised various places.
(Sep 29, 2013)
With creation of English site, we also revised the Japanese site, particularly the part of mythology.
We created a menu of Blepharoplasty.
(Sep 29, 2013)
Because the description of the ptosis becomes too long, we created a new menu for it.
We uploaded ptosis cases.
(Sep 29, 2013)
We think that to show the real cases of blepharoplasty surgery is better than to explain by words, Please see the cases particularly the immediate postoperative photos to observe how the postoperative swelling is.
We created English site.
(Sep 29, 2013)
We uploaded the English site. English site has different atmosphere, doesn't it? We would be grateful if not only English speakers but also anybody else would visit our English site.
We have operated more than 60 cases of ptosis for 4 months since the opening of the clinic
(2013.8.4)
We operated the first case of ptosis on 2nd April, 2013 which is the day after the opening of the clinic. The postoperative course is uneventful, and the patient has been doing very well so far.
We have uploaded an article about ptosis
(Aug 4, 2013)
We uploaded comments about our thought about ptosis based on our experiences. Also we uploaded the checklist listing signs of the ptosis. Please visit the site and check yourself.
Smartphone compatible
(Jul 31, 2013)
We have just made this PC site compatible with smartphone. (We will highly appreciate if you inform us about any bug on this web site that you come across.)
We started Operation Under General Anesthesia
(Jul 17, 2013)
We started the operation under general anesthesia in june, 2013. We have already performed four cases of rhinoplasty under general anesthesia. The patients have been doing well so far.
PROLOGUE
Since 2000 when the Department of Dermatology and Plastic Surgery was newly established and I became the first director, the number of patients of rhinoplasty and blepharoplasty have continued to increase. As a result, for about 10 years, our experience became more than 300 cases of rhinoplasty, 800 cases of blepharoplasty.
Particularly, the number of hospitarized cases of ptosis surgery in 2011 has ranked second in Japan according to the statstic analysis of the data from Japanese Diagnostic Procedure Combination (DPC) database. (from 'Byouin Kuchikomi Kensaku Caloo".)
Haramoto Clinic was newly opened since April 2013, and we have continuously placticed Plastic and Aesthetic Surgery with focuses on the nose and eyelid surgery as before. With the help of total re-examination of the surgical environments and instruments on this opportunity, we have improved our clinical results as compared with those in the period of Osaka Central Hospital.
We are still challenging to improve our treatments more.

INQUIRY, ACCESSClick map to enlarge.
Our clinic is located in front of JR 'Konan-yamate' Station, within one minutes walk from the station.
To JR Konan-yamate Station, it takes about 16 minutes from JR Osaka Station, or about 12 minutes from JR Sannomiya Station.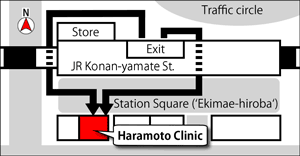 Our consultation services are basically reservation-only. For reservation, please call us.
TEL: 078-453-7110
FAX: 078-453-7156
clinic@haramotoclinic.com




Information File for Print(PDF344kb)