INQUIRY, ACCESSClick map to enlarge.
Our clinic is located in front of JR 'Konan-yamate' Station, within one minutes walk from there.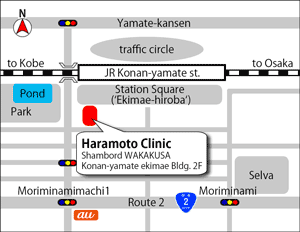 To JR Konan-yamate Station, it takes...
about 16 minutes from JR Osaka Station,
about 12 minutes from JR Sannomiya Station.
We have a car parking
.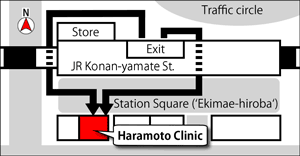 From JR Konan-yamate Station...
It takes within a short (one minute) walk toward the south.
The station has only one gate in the north side(mountain side). Please go round toward the west or east to reach the south side (coast side).

TEL
TEL: 078-453-7110
FAX: 078-453-7156
Our consultation services are basically reservation-only. Please telephone us for reservation.
ADDRESS
1-13-13, Moriminamimachi, Higashinada-ku, Kobe 658-0011, JAPAN
Shambord WAKAKUSA Konan-yamate Ekimae 201
EMAIL
clinic@haramotoclinic.com

Information File for Print(PDF344kb)